Fun and friendly fitness classes, working at your own pace that will get you sweating and burning that fat away. All under the guidance and instruction of a fully qualified and insured Personal Trainer.
All packages include Nutrition guidance, tasks and challenges to keep you on track and maximise reaching your goals.
Not sure, if we're right for you? Try Us, First week FREE.
Please get in touch now and book your free week as spaces are limited and it will save you time on the day of your class.
Timetable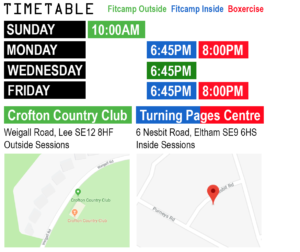 FREE Support:
While I was on my own fat loss journey, long before I decided to become a personal trainer, I decided I wanted to help others find a way to be fit & able and fit it within a lifestyle that works for them. I still want to help as many people as possible and the facebook group I started way back then is, and always will be, running, offering information, advice, tips and lots of free support Fit & Able Fitness Facebook Group
I also try and run a couple of free 4 week beginner fat loss plans each year but depends how busy I am, check out the facebook group for details or sign up to my mailing list where I will send you free tips, advice and information on any up coming programmes.
Packages
Pay As You Go – £7.50 per class.
Upto 3 classes per week – £40 per month
Unlimited classes per week – £50 per month
All VIP package Members receive:
Fitcamp record book to record your progress
Weekly In-depth body statistics and monitoring (optional but advisable – weight, Body Fat %, Blood Pressure & measurements)
Before and After photos (optional)
Informative handouts
Weekly Tasks
Monthly Challenges and Monthly prize draw
A closed V.I.P. facebook group for package members only
Discounts on Fit & Able products & services coming soon!!!
Terms and Conditions
Cancelled fitcamp class:
We reserve the right to cancel a fitcamp class for any reason (such as not enough people attending, it's unsafe to proceed, horrendous weather etc).
Packages:
Monthly payments are a subscription, based on 4 weeks membership per month. Meaning we will be closed for 4 weeks per year (unless I am able to arrange cover).
Any missed classes during the week cannot be carried over to the following week.
Payments to be collected on the 1st of each month or your first class of the month.
Contact Me:
Your success is my success. If at any time you feel you are not getting the support and guidance you require or if you have any questions drop me a message.