I specialise in fat loss, weight management, transformations for the busy over 30's. I've been there, I know what being overweight is and the struggles to overcome the daily challenges to lose weight. I can show you how I changed my life and give you the tools to change yours. Let me help you.
FREE Consultation:
I believe that a coach / client relationship is a symbiotic one. Working together to help you achieve your goals. It is important that we are a good match and that us working together will help you reach your goals. This is why I offer a free consultation where we can meet and talk over your goals, likes and dislikes.
If you're interested in arranging a consultation, use the Contact Form or call / message me to arrange a convenient time to meet either at your home, office, the environment you wish to mainly train or even a local coffee shop.
Personal Training One to One Sessions:
Starting at just £200 per month all my in-person one to one packages include all my fitcamps and Boxercise classes and full V.I.P. access. There is a waiting list of popular time slots and other slots go very quickly, so please contact me asap if you're interested in one to one in-person training.
Train with a friend:
Share the cost with a friend and both get all the benefits of a 1-2-1 tailored package but train together. From just £10 extra per session per person.
All One to One packages come with FREE Fitcamp packages for faster results.
Private Group Training:
Ideal for small groups who wish to get fit together splitting the cost between you.
Group of 4 £45

Group of 5 £50

Group of 6 £55

Group of 8 £60

Group of 10 £70

Contact me for groups larger than 10.
Online Coaching:
Fully tailored training plans and group package plans, up to fully tailored bespoke plans with ongoing support and adaptions.
Contact me if you're interested in online coaching and we can discuss what will work best for you.
Fitcamp Timetable & locations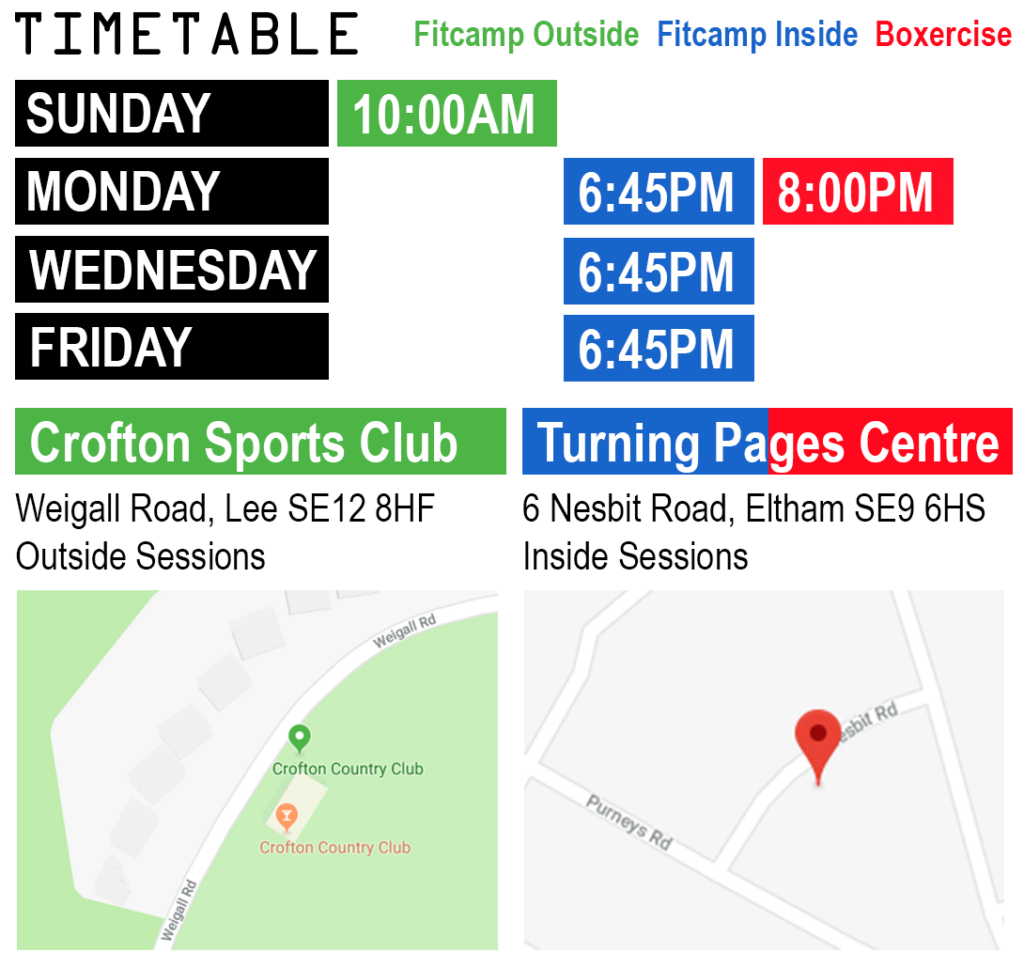 Packages from £2.50 per class. Click here for our page dedicated to our Fat Loss Fitcamps.
Fun and friendly training all at your own pace that will get you sweating and burning that fat away.
FREE Support:
While I was on my own fat loss journey, long before I decided to become a personal trainer, I decided I wanted to help others find a way to be fit & able and fit it within a lifestyle that works for them. I still want to help as many people as possible and the facebook group I started way back then is, and always will be, running, offering information, advice, tips and lots of free support Fit & Able Fitness Facebook Group
I also try and run a couple of free 4 week beginner fat loss plans each year but depends how busy I am, check out the facebook group for details or sign up to my mailing list where I will send you free tips, advice and information on any up coming programmes.